Ferdinand Victor Eugène Delacroix (1798)
Considered the foremost painter of the Romantic movement in France, Delacroix is known for his dramatic interpretations of scenes from mythology, literature, and political, religious, and literary history and for his sensuous use of color. His most influential work is 1830's revolution-themed Liberty Leading the People, which likely inspired the design of the Statue of Liberty. During a trip to Morocco, he painted many scenes of North African life. Why did he struggle to find subjects? Discuss


Karel Appel (1921)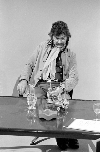 Appel was a Dutch painter and sculptor and co-founder of the abstract expressionist group COBRA, whose members hailed from Copenhagen, Brussels, and Amsterdam. Active from 1948 to 1951, the group created work featuring primary colors and spontaneous brushwork. Appel's own style was characterized by violent color and crude, reductive figures. Later in life, he turned to creating figurative sculptures in wood and metal. What was done to censor Appel's controversial fresco in Amsterdam City Hall?


Sue Taylor Grafton (1940)

A onetime screenwriter, Grafton began writing detective novels after a bitter and protracted custody battle left her daydreaming about the vengeful crimes she would have liked to commit but could not. As a means of escape, she created private detective Kinsey Millhone, the protagonist in a series of alphabet-titled novels such as A is for Alibi and B is for Burglar. After G Is for Gumshoe, she was able to quit screenwriting. Why won't she sell the film rights to her books?


Julia Roberts Online
Julia Roberts resource with latest news, monthly newsletter, biography, filmography, photo gallery and more on Julia Roberts.
m
Google
Premature Lambs Kept Alive in 'Plastic Bag' Womb
Scientists have been able to keep premature lambs alive for weeks using an artificial womb that looks like a plastic bag. It provides everything the foetus needs to continue growing and maturing, including a nutrient-rich blood supply and a protective ... Discuss


Scientists Get a Rare View of a Type Ia Supernova Magnified 50 Times
For the first time, astronomers have caught a type Ia supernova being magnified by more than 50 times and split into four images in the night sky thanks to gravitational lensing. The discovery, described in the journal Science, could help scientists ...


Is It Safe To Eat Moldy Bread?
Like politics and music, the question of whether to eat moldy food can divide families, with relatives' admonishments reverberating in one's head for years. "Every time I throw out moldy bread, I can still hear my dad lecturing me: 'That's perfectly ...


Melden gebroken link&nbsp &nbsp &nbsp Disclaimer&nbsp &nbsp &nbsp Link aanmelden