Caligula (12 CE)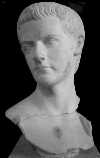 Caligula was a Roman emperor who began his reign upon the death of the extremely unpopular Tiberius. His reign was initially welcomed, but, shortly after assuming power, he suffered a severe illness that is widely believed to have rendered him insane. He earned a reputation for cruel autocracy, torture, and execution and was finally assassinated by a tribune of the Praetorian Guard. Caligula's real name was Caius Caesar Germanicus. Why was he nicknamed Caligula as a child? Discuss


Mary Wollstonecraft Shelley (1797)

In 1816, 18-year-old Mary Wollstonecraft Godwin and her soon-to-be husband, poet Percy Bysshe Shelley, traveled to Geneva to spend the summer with poet Lord Byron. Forced indoors by unpleasant weather, the friends amused themselves by sitting around a fire and reading ghost stories. Byron suggested they each write their own supernatural tale, and the story that Mary wrote became the basis for her novel, Frankenstein: or, The Modern Prometheus. What real-life events may have inspired her?


Oliver Wendell Holmes, Sr. (1809)

The father of the US Supreme Court justice of the same name, Holmes was an American physician, poet, and humorist. After beginning his medical career as a general practitioner, he shifted to the academic field and became dean of the Harvard medical school. However, he is perhaps best known for the poem that won him national acclaim—"Old Ironsides," a protest against the scrapping of the USS Constitution, which helped save the ship. What common medical term was coined by Holmes?


Julia Roberts Online
Julia Roberts resource with latest news, monthly newsletter, biography, filmography, photo gallery and more on Julia Roberts.
m
Google
Global Life Expectancy Climbs, but So Do Years of Illness
Average life expectancy among people worldwide has risen by more than six years since 1990, and healthy life expectancy has climbed by more than five years, a new report shows. The analysis of data from 188 countries found that life expectancy for both ... Discuss


Texters Rejoice: The Phone-brella is Here
You know you've done it. That awkward texting-while-holding-umbrella dance. Or the finding-directions-while-holding-umbrella dance. Whatever your version of it, you know exactly what I'm talking about. Umbrella in one hand, phone in the other, you search ...


Could this Ancient Complex be the Lost Palace of Sparta?
More than 150 archeological excavations have taken place in Greece so far this year, but two recent digs may have just made history of their own. They may have discovered the lost palace of Sparta. Archaeologists have unearthed a stunning 10-room complex...


Melden gebroken link&nbsp &nbsp &nbsp Disclaimer&nbsp &nbsp &nbsp Link aanmelden