Charles Atlas (1892)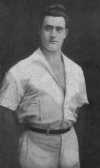 A scrawny youth, Angelo Siciliano, better known as "Charles Atlas," built up his physique using a system of exercises he developed that worked muscles against each other and in 1922 was dubbed "The World's Most Perfectly Developed Man." Under the Atlas pseudonym, he launched a highly successful mail-order bodybuilding course, advertising his "dynamic tension" system with the now-iconic image of the "97-pound weakling" who loses his girl to a bully at the beach. How does the weakling's story end? Discuss


Joseph Goebbels (1897)

Goebbels, the Nazi regime's infamous minister of propaganda, used mass communication to indoctrinate the German people into a culture of Nazism, racism, and militarism. One of his first acts as minister was to order the burning of books by Jewish or anti-Nazi authors, after which he gained control of every outlet of information in Germany. One of Hitler's most devout followers, Goebbels killed himself and his family after Germany's defeat. What was the title of his semi-autobiographical novel?


Bernie Ecclestone (1930)

Ecclestone is a controversial British business magnate and one of the most powerful people in the world of Formula One (F1) racing. Briefly a racer, he gave up the sport after several accidents but later returned as a manager and team owner. In the 1970s, he secured his position in the F1 organization by negotiating TV broadcasting rights, vastly increasing the sport's popularity. In 2004, the billionaire's home became the most expensive ever sold when a steel magnate bought it for how much?


Julia Roberts Online
Julia Roberts resource with latest news, monthly newsletter, biography, filmography, photo gallery and more on Julia Roberts.
m
Google
More Than 100 Feared Dead in Sri Lanka Landslide

Monsoon rains triggered a landslide on a Sri Lankan tea plantation that engulfed about 150 houses, killing perhaps 100 or more residents. Bad weather hampered rescue efforts, and only 10 people were confirmed dead by the end of the first day of searching. However, hundreds remain missing. Most of the casualties are believed to be adults, as many children were already at school—outside the affected area—by the time the landslide struck. Though this likely saved their lives, it has also probably left a good many of them orphans. Discuss


Itching to Take a Selfie

A Russian government agency is blaming the selfie craze for the spread of head lice and advising young people to abstain from the practice to protect themselves. It says group selfies, which typically require the individuals involved to squeeze close together to fit into a photo, have become the primary pathway for the critters to jump from host to host. While it is conceivable that a person carrying lice could inadvertently spread them to others in this manner, many find the notion that this is the leading cause of the parasite's spread to be suspect and have taken to social media to mock the assertion (and the agency behind it).


Google Exec Overtakes Baumgartner, Claims Skydive Records

A Google executive has broken the world altitude record for skydiving set by Felix Baumgartner in a much-hyped 2012 jump. The 57-year-old senior Google vice president, Alan Eustace, jumped from an altitude of 135,890 feet, nearly 8,000 feet higher than Baumgartner, hitting a peak velocity of 822 mph (1,321 km/h) during his 123,414-foot freefall—both record numbers as well. As Eustace plummeted toward Earth from the edge of space, observers on the ground heard the sonic boom triggered at the moment his body exceeded the speed of sound.


Melden gebroken link&nbsp &nbsp &nbsp Disclaimer&nbsp &nbsp &nbsp Link aanmelden