Mack Sennett (1880)

Sennett was an American movie director, considered the father of slapstick comedy in film. After directing comedies under the tutelage of D.W. Griffith, he left to form his own Keystone Company and produced the first American feature-length comedy, Tillie's Punctured Romance, in 1914. He made more than 1,000 comedy shorts, often featuring the wild antics of the Keystone Kops, and received a special Academy Award in 1937. As an actor, Sennett played what iconic character in several films? Discuss


Eric Henry Liddell (1902)

Liddell was a Scottish athlete and missionary. Because of his Christian convictions, Liddell refused to run track events on Sundays, a decision that forced him to withdraw from his best event, the 100-meter sprint, during the 1924 Paris Olympics. Instead, he ran the 400 meters, winning the gold medal and breaking the existing world record. His story is depicted in the Academy Award-winning 1981 film Chariots of Fire. Why is he listed in some literature as China's first Olympic champion?


Mihai Eminescu (1850)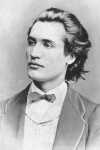 Eminescu is considered Romania's greatest poet. His first poems were published when he was just a teen, and a few years later he joined the literary circle Junimea and began contributing to its journal, Convorbiri literare. His lyrical, passionate, and revolutionary poems had a profound influence on Romanian letters. Eminescu suffered from periodic attacks of insanity and died shortly after one such attack. He is honored in a monument in the capital city of what Islamic country?


Julia Roberts Online
Julia Roberts resource with latest news, monthly newsletter, biography, filmography, photo gallery and more on Julia Roberts.
m