Mary Virginia Martin (1913)

Martin was an American musical comedy star. She co-owned a dance school in her native Texas before moving in 1938 to New York City, where she earned a small part in the musical Leave It To Me, winning widespread popularity with her buoyant singing voice and high-spirited temperament. She went on to star in several enormously successful musicals, including South Pacific, Peter Pan, and The Sound of Music, as well as a number of films. Who is Martin's famous son? Discuss


Mark Twain (1835)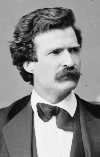 Twain was an American author who, as a humorist, narrator, and social observer, is unsurpassed in American literature. Born Samuel Langhorne Clemens, Twain grew up in a port town on the Mississippi River and eventually became a river pilot. He first won fame with the comic masterpiece "The Celebrated Jumping Frog of Calaveras County." His 1885 novel The Adventures of Huckleberry Finn has been called the first modern American novel. According to Twain, how did he acquire his pen name?


Louisa May Alcott (1832)

Determined to contribute to the small family income, Alcott began writing to help support her mother and sisters. She first achieved widespread fame and wealth with Little Women, one of the most popular children's books ever written. The novel, which recounts the adolescent adventures of the four March sisters, is largely autobiographical. Her first book, Flower Fables, was a collection of tales originally created to amuse the daughter of her friend, what famous American poet?


Julia Roberts Online
Julia Roberts resource with latest news, monthly newsletter, biography, filmography, photo gallery and more on Julia Roberts.
m