Mick Jagger (1943)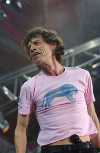 As lead singer of the British rock band the Rolling Stones, Jagger became one of rock music's biggest icons in the 1960s. He was widely regarded as a countercultural figure, fronting a band of defiant troublemakers. Borrowing from earlier American blues artists, Jagger helped redefine rock music and create some of the genre's greatest anthems, including "Satisfaction," "Sympathy for the Devil," and "You Can't Always Get What You Want." How did Jagger meet Stones guitarist Keith Richards? Discuss


Henry Knox (1750)

A bookseller, Knox became active in the colonial militia in the lead-up to the American Revolution. Upon the outbreak of war with England, he volunteered for the revolutionary forces and soon proved himself a capable tactician and leader. He was so highly regarded that he was chosen to succeed George Washington as commander of the army at the war's end and later served as the first US secretary of war. What did Knox accidentally swallow that caused an infection that claimed his life?


Simón Bolívar (1783)

Bolívar was a South American revolutionary leader whose actions earned him the title of "El Libertador." He defeated the Spanish in 1819, was made president of Greater Colombia—which comprised modern Colombia, Panama, Venezuela, and Ecuador—and helped liberate Peru and Bolivia. He declared himself dictator in hopes of unifying the region but was less successful at ruling countries than at liberating them, and he resigned in 1830, dying shortly thereafter. Why was Bolívar's body exhumed in 2010?


Julia Roberts Online
Julia Roberts resource with latest news, monthly newsletter, biography, filmography, photo gallery and more on Julia Roberts.
m
Google
Bubonic Plague Death Prompts Quarantine in China

The bubonic plague has a prominent place in history books, having killed about a quarter of the European and Asian population in the 14th century in a pandemic now known as the Black Death, but its story does not end there. Periodic outbreaks on a much smaller scale have taken place since that time, with 60 succumbing to the disease in Madagascar not long ago. Thus, when a man in Yumen city, China, died of the plague last week, officials acted quickly to quarantine anyone he had contact with—151 people—and establish four quarantine zones in the city, setting up checkpoints to ensure the areas remain sealed off until they are certain the danger has passed. Discuss


Yet Another Air Tragedy

An Air Algérie flight bound for Algeria from Burkina Faso was lost as it crossed over the Sahara in bad weather and is believed to have crashed. It was carrying 116 people whose fates are not yet known. Air traffic controllers lost contact with the plane less than an hour after takeoff. Prior to this, the crew had communicated that they would be changing course due to a sandstorm, leading to speculation that bad weather brought the plane down. A multinational search effort is underway to locate the missing plane and rescue any survivors.


Deadly Plane Crash in Taiwan

In further tragic airline news, a TransAsia Airways flight crashed while trying to land in bad weather, killing more than 40 of the 54 people on board. The plane had departed Kaohsiung in southern Taiwan on Wednesday afternoon, heading for Magong on Penghu Island. Many flights that day had been canceled due to strong winds and rain brought by Typhoon Matmo, but warnings had been lifted prior to the plane's departure, and inclement weather at the time of the crash did not exceed international regulations for landing.


Melden gebroken link&nbsp &nbsp &nbsp Disclaimer&nbsp &nbsp &nbsp Link aanmelden