Robert Walpole, First Earl of Orford (1676)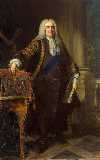 Walpole was an English statesman. Elected to the House of Commons in 1701, he later served as secretary of war. With the accession of George I, he rose rapidly to become first lord of the treasury and chancellor of the exchequer. With his consolidation of power, he effectively became the first British prime minister. He avoided foreign entanglement and kept England neutral until 1739, when he was forced into the War of Jenkins' Ear against Spain. How did the conflict get its name? Discuss


Althea Gibson (1927)
Gibson, a US tennis player, was the first African-American woman to compete on the world tennis tour. Though tennis had essentially been segregated until that time, she was finally given an opportunity to play at the US Championships in 1950. Having broken the color barrier, she went on to become the first black person to win Wimbledon. She was inducted into the International Tennis Hall of Fame in 1971. In 1964, Gibson became the first African-American player in what other sports organization?


Julia Roberts Online
Julia Roberts resource with latest news, monthly newsletter, biography, filmography, photo gallery and more on Julia Roberts.
m
Google
Doctors Remove 40 Knives from Man's Stomach in India
A man in India spent two months swallowing knives and had 40 of them surgically removed from his stomach, according to the doctor who led the operation. "He had a wild urge to consume metal. Even for us, the experienced surgeons, it was frightening," Dr. Jatinder ... Discuss


How to Track Poverty from Space
You can get a pretty good idea of a country's wealth by seeing how much it shines at night – just compare the intense brightness of China and South Korea to the dark mass of North Korea that's sandwiched between them. But nighttime lights don't tell you which ...


Eat Your Food Packaging, Don't Bin It
Scientists are developing an edible form of packaging which they hope will preserve food more effectively and more sustainably than plastic film, helping to cut both food and plastic waste. The packaging film is made of a milk protein called casein, scientists ...


Melden gebroken link&nbsp &nbsp &nbsp Disclaimer&nbsp &nbsp &nbsp Link aanmelden